I have been using the blog to organize my thoughts and research on social media and it's practical uses beyond direct response advertising.  A few posts ago I wrote about how an Instagram handle I started called #CEOLIFE invariably helped lead me to get cast and work on the show Mystery Millionaire on WE TV.
I am grateful for the overwhelming amount of support I received on the show, most of which was sent to me through social media.  I promoted the show on Facebook, Twitter and Instagram.
For Facebook, I used a two part strategy.  I researched who the fans of WE TV were on Facebook as well as the fans of their top shows like Marriage Bootcamp Reality Stars.  Once I figured out the demographic (mostly females, urban demo, etc), I began running a campaign to "get likes" to my Fan Page which had around 18,000 Likes when I started the campaign.  Simultaneously, I used Facebook's new 'boost post' feature to boost the post to my full audience to make sure it was reaching everyone who I personally was connected with.  The Facebook campaign got a lot of engagement and was successful.  I learned a lot about promoting a television show or other type of multi media project from this experience and I am excited to promote another show or film in the future with the new knowledge I have gained.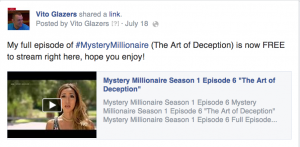 On Instagram, I just targeted followers of @WETV and used a tool from SlyTools.com to 'like' photos of people who already liked WETV.  This was the most efficient way I could engage with people who I knew were in the same demographic on Instagram who were seeing the television ads that the network was running.  I got a lot of great feedback and engagement on IG from the campaign as well and learned a lot about promoting this type of project on this social network.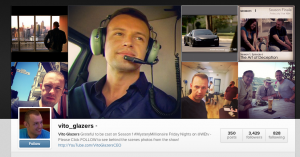 Twitter was the most effective because the network was advertising for viewers to tweet a long with the episodes.  I tweeted a long with every episode of the show and built up a following based on that engagement.  When the episode I was featured in finally aired, I was already well known by the people who followed the show and liked to chime in on twitter.
The whole experience was very rewarding, and I learned as much as I possibly could about promoting this type of content online.  If you missed the Season Finale where I appeared, you can stream the entire episode for free on my channel at http://YouTube.com/VitoGlazersCEO and I would love to hear your feedback in the comments, or as always feel free to connect with me on Facebook on Twitter.
Thanks again to everyone who tuned in and supported!! Look forward to being on screen again soon.